Shai M. Rozen, M.D., F.A.C.S.
1801 Inwood Road
Dallas, TX 75390
Phone: (214) 645-2353
Monday–Friday: 8 a.m.–5 p.m.

Smile Restoration
One of the most important components of human expression is the ability to smile. A smile conveys kindness and openness and enhances communication between people. When the muscles that help produce the smile are paralyzed, that side of the face appears droopy, often angry, and to some extent distorted. When a person tries to smile, the distortion will often seem worse since the normal side will pull strongly, unopposed by the paralyzed side.
Dr. Shai Rozen, a leader in the field of facial paralysis, who has published numerous scientific papers on facial paralysis and extensively speaks on the subject in academic centers in the U.S. and internationally, works with a team of leading neurotologists and neurosurgeons at the University of Texas Southwestern Medical Center. They have helped many people smile again through facial reanimation surgery. Dr. Rozen hopes that by reviewing this page, you will understand you are not alone and realize there are many advanced treatment options available to help you smile again.
Types of Facial Reanimation Surgery
Dr. Rozen offers advanced facial reanimation techniques not only for restoring the smile but also for restoring the function and appearance of other areas of the face. The technique used varies for different types of facial paralysis. Visit the following pages to learn more about each technique:
Patients often benefit from other procedures including lower lip surgery, brow surgery, and eyelid surgery to improve symmetry between the sides of the face. Dr. Rozen and his group offer a variety of treatment options for synkinesis (uncontrolled facial movements) that can be included in the facial reanimation treatment plan.
Common Complaints of Patients With Facial Paralysis
Facial paralysis affects more than the smile; it impacts one's self-image, ability to eat, drink, and speak. Patients have a variety of complaints, including:
Distress about social interaction; becoming more reclusive
Avoiding being in photos and looking in the mirror
Problems preventing food and liquids from escaping the corner of the mouth
Struggling with food accumulating inside the cheek on the paralyzed side
Difficulty speaking clearly, especially pronouncing certain letters that necessitate pursing of the lips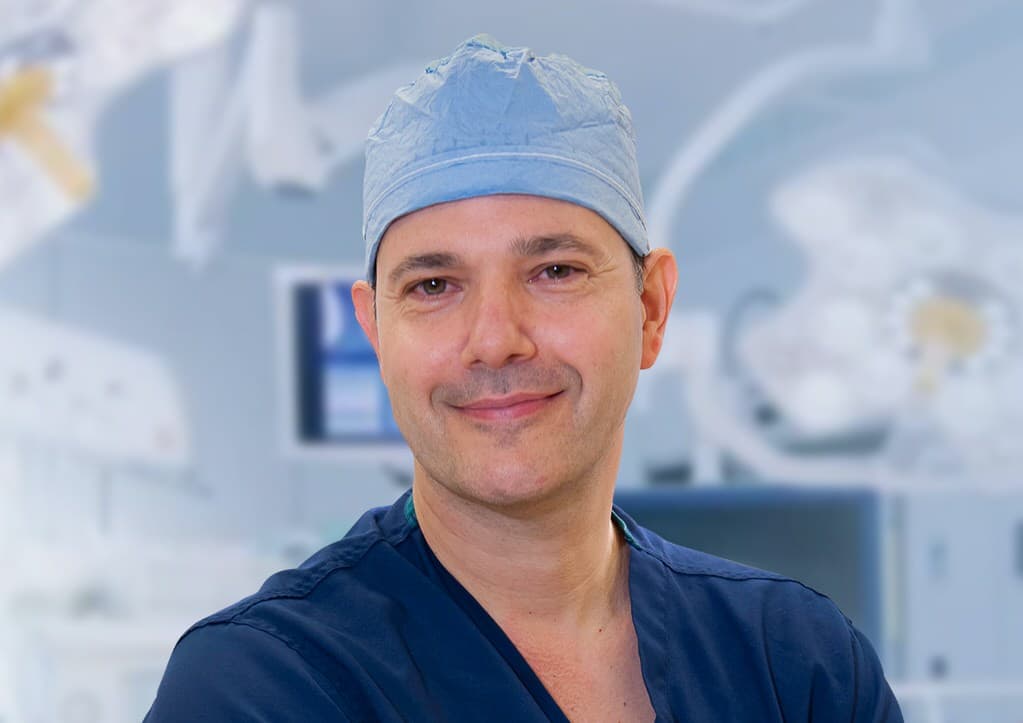 Facial Paralysis Surgeon
Dr. Shai Rozen
Dr. Rozen is a board-certified plastic surgeon who co-created a facial paralysis specialty group with colleagues from otolaryngology & neurosurgery at the University of Texas Southwestern Medical Center.
Meet Dr. Rozen
Credentials You Can Trust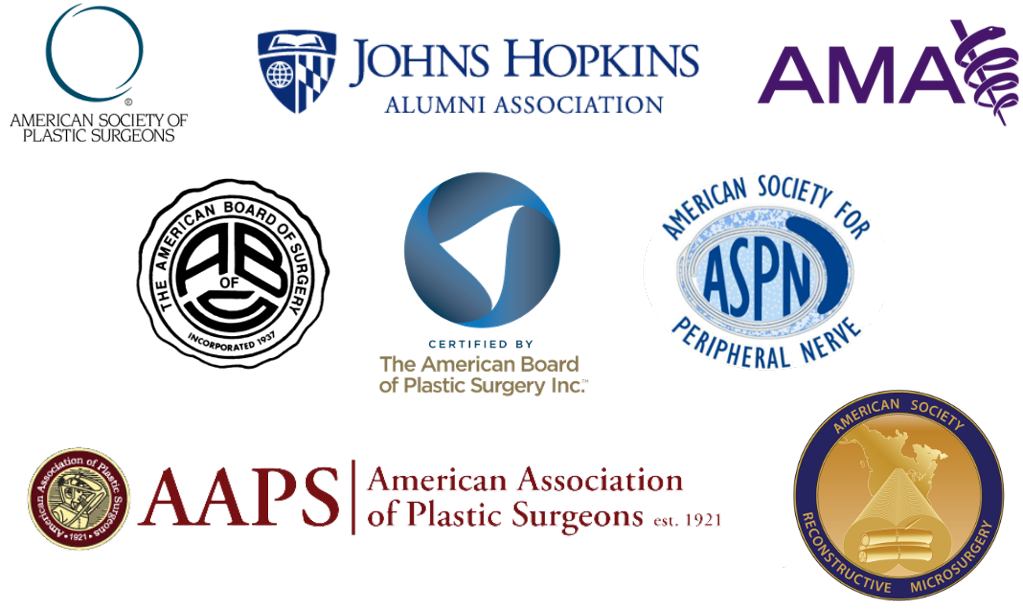 The Importance of Smile Restoration
Over the years, Dr. Rozen has realized from his patients that smile restoration and facial symmetry are among the most important goals of facial rehabilitation in patients with facial paralysis (although there are other concerns such as corneal protection, which Dr. Rozen prioritizes). In addition to reporting improved well-being, increased confidence, and enriched social interaction after smile and symmetry restoration, many patients report improved speech and handling of food.
What is the best smile restoration treatment for facial paralysis?
Restoring one's smile and facial symmetry often involves several steps. Patients have their own unique needs and benefit from different approaches. Dr. Rozen considers a variety of factors when creating a treatment plan, including:
Duration of the paralysis
Cause of the paralysis
Whether the facial nerve has a chance for recovery
Patient preference
A Valuable Resource for Those Affected by Facial Paralysis
If you, a loved one, or a patient is affected by facial paralysis, it's crucial to have accurate, up-to-date information about symptoms and solutions. Board-certified plastic surgeon Dr. Shai Rozen, a specialist in facial paralysis and facial aesthetics, created Your Guide to Facial Paralysis & Bell's Palsy to be a readily accessible resource for all.
This downloadable, printable e-book makes it easy to understand:
How paralysis affects the face
When it's time to see a specialist
Common causes of facial paralysis
The difference between facial paralysis and Bell's palsy
Myths and facts
The latest treatment options
Answers to common questions
Get your free copy today—to download or view in your web browser—by completing the following fields: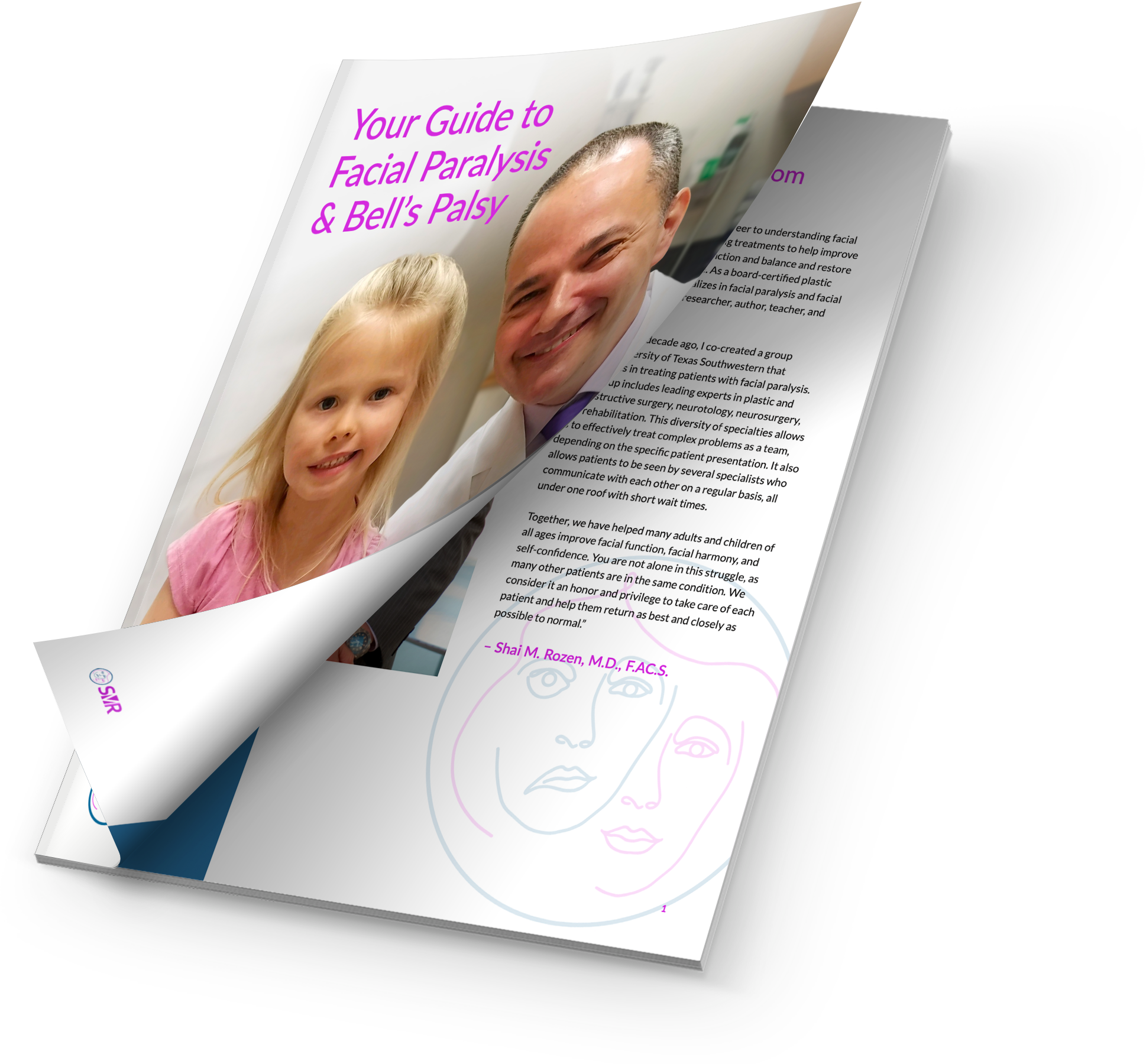 Next Steps
Dr. Rozen and his team are experienced in the latest surgical techniques to correct facial paralysis. The sooner patients seek treatment, the more options they have available. To find out if facial reanimation can help you or a loved one, request a consultation online to meet with Dr. Rozen at UT Southwestern.