Shai M. Rozen, M.D., F.A.C.S.
1801 Inwood Road
Dallas, TX 75390
Phone: (214) 645-2353
Monday–Friday: 8 a.m.–5 p.m.

BOTOX®
BOTOX (onabotulinumtoxinA) injections are a very useful adjunct tool Dr. Shai Rozen uses at UT Southwestern Medical Center in the multimodal treatment plan of patients with facial paralysis, especially those with synkinesis. In general, BOTOX is used to decrease the baseline tightness of muscles in different areas of the face and diminish uncoordinated movements due to synkinesis. The overall goals of treatment are improving facial balance, symmetry, and function.
What is BOTOX?
BOTOX is a neurotoxic protein or, in gentler words, a neuromodulator. It prevents the release of the neurotransmitter acetylcholine from the nerve ending where it enters the muscle (neuromuscular junction) and temporarily paralyzes the muscle. There are several types of botulinum toxin from A to G, but types A and B are those most commonly used in medicine.
Why are BOTOX injections used in patients with synkinesis?
BOTOX temporarily paralyzes or weakens certain muscle groups depending on the clinical indication. In the cosmetic setting, BOTOX is mainly used to decrease dynamic wrinkles created by underlying muscle activity. As a treatment for facial paralysis, especially synkinesis, BOTOX treats a variety of conditions, including:
Excessive muscle tightness around the eye (blepharospasm)
Excessive and constant facial muscle contraction (facial spasticity or hypertonicity)
Involuntary facial movement (synkinesis), most commonly oral-ocular synkinesis, in which the eye closes when attempting to smile or eat or ocular-oral synkinesis, in which the mouth moves when attempting to close the eye.
Are BOTOX injections placed in locations similar to those used for cosmetic purposes?
Some locations are similar, but many are not. For treating blepharospasm, a simple injection around the eye significantly helps reduce the tightness in that area. Often patients complain about tightness around the neck and dimpling in the chin, which frequently respond well to BOTOX injections. BOTOX can also be used on the healthy side to improve symmetry by decreasing the strong and unopposed pull of the healthy side.
Is the effect of BOTOX permanent?
The effect of BOTOX is temporary, usually lasting for 3 to 4 months in cosmetic patients. But in patients with synkinesis, effects tend to be shorter, usually 3 months, likely because of excessive spasticity of the facial muscles; therefore, repeated injections are required. There is no clear answer as to whether repeated injections may result in a permanent weakening of the muscle resulting in less need for future injections. However, Dr. Rozen's group has seen synkinesis return if injections are not performed on a regular basis.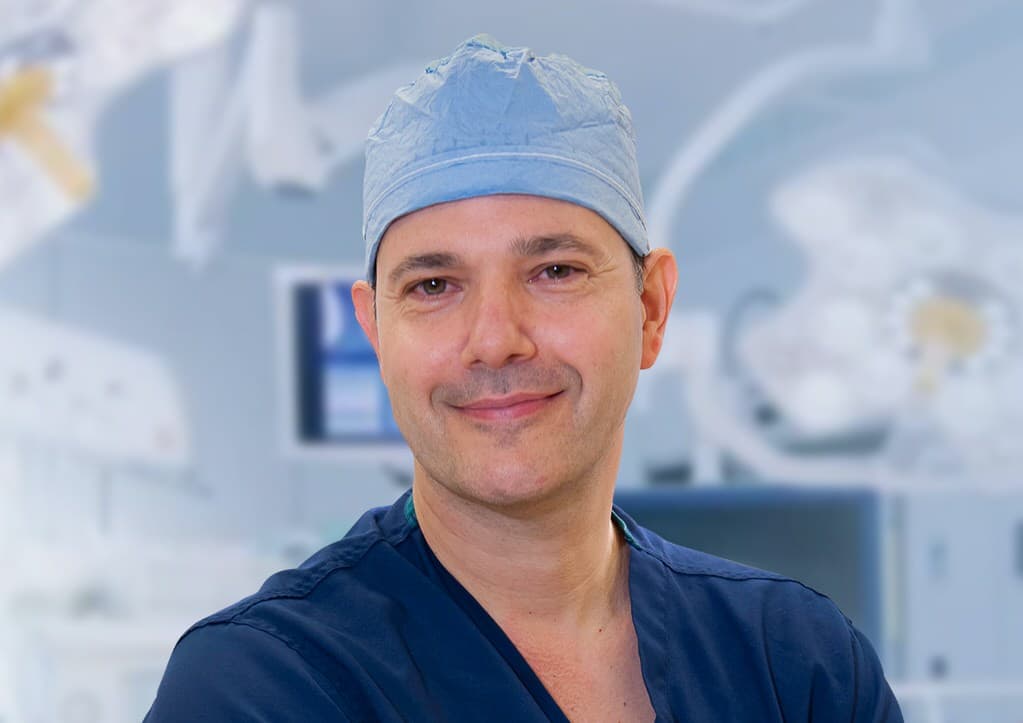 Facial Paralysis Surgeon
Dr. Shai Rozen
Dr. Rozen is a board-certified plastic surgeon who co-created a facial paralysis specialty group with colleagues from otolaryngology & neurosurgery at the University of Texas Southwestern Medical Center.
Meet Dr. Rozen
Credentials You Can Trust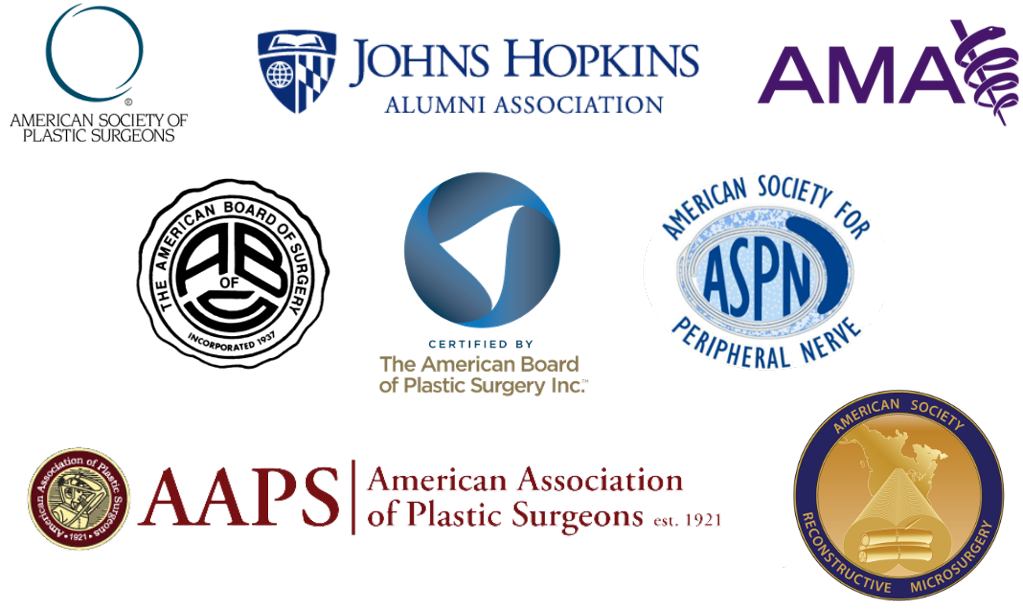 Are there alternatives to BOTOX injections?
As previously mentioned, BOTOX is used as an adjunct tool for treating synkinesis. Some patients choose to have repeated injections in small areas in the face, including around the eye or chin, while others prefer to undergo selective myectomies (cutting of muscles). The choice really depends on the clinical presentation and the specific muscles involved. Certain muscles respond much better with myectomies, while others respond better with repeated BOTOX injections.
So, if BOTOX works on nerves, why not simply remove the problematic nerves (perform selective neurectomy)?
Attempts at denervation have been described over the last 50 years and are not a new concept. In certain facial areas, generally, the forehead or lower lip, cutting a single nerve may indeed decrease synkinesis—but it will also create complete paralysis. In other areas, because of a vast network of nerves, cutting a few will provide temporary relief, but recurrence of synkinesis is frequent. Therefore, selective neurectomies are generally more effective if combined with other modalities, such as myectomies.
A Valuable Resource for Those Affected by Facial Paralysis
If you, a loved one, or a patient is affected by facial paralysis, it's crucial to have accurate, up-to-date information about symptoms and solutions. Board-certified plastic surgeon Dr. Shai Rozen, a specialist in facial paralysis and facial aesthetics, created Your Guide to Facial Paralysis & Bell's Palsy to be a readily accessible resource for all.
This downloadable, printable e-book makes it easy to understand:
How paralysis affects the face
When it's time to see a specialist
Common causes of facial paralysis
The difference between facial paralysis and Bell's palsy
Myths and facts
The latest treatment options
Answers to common questions
Get your free copy today—to download or view in your web browser—by completing the following fields: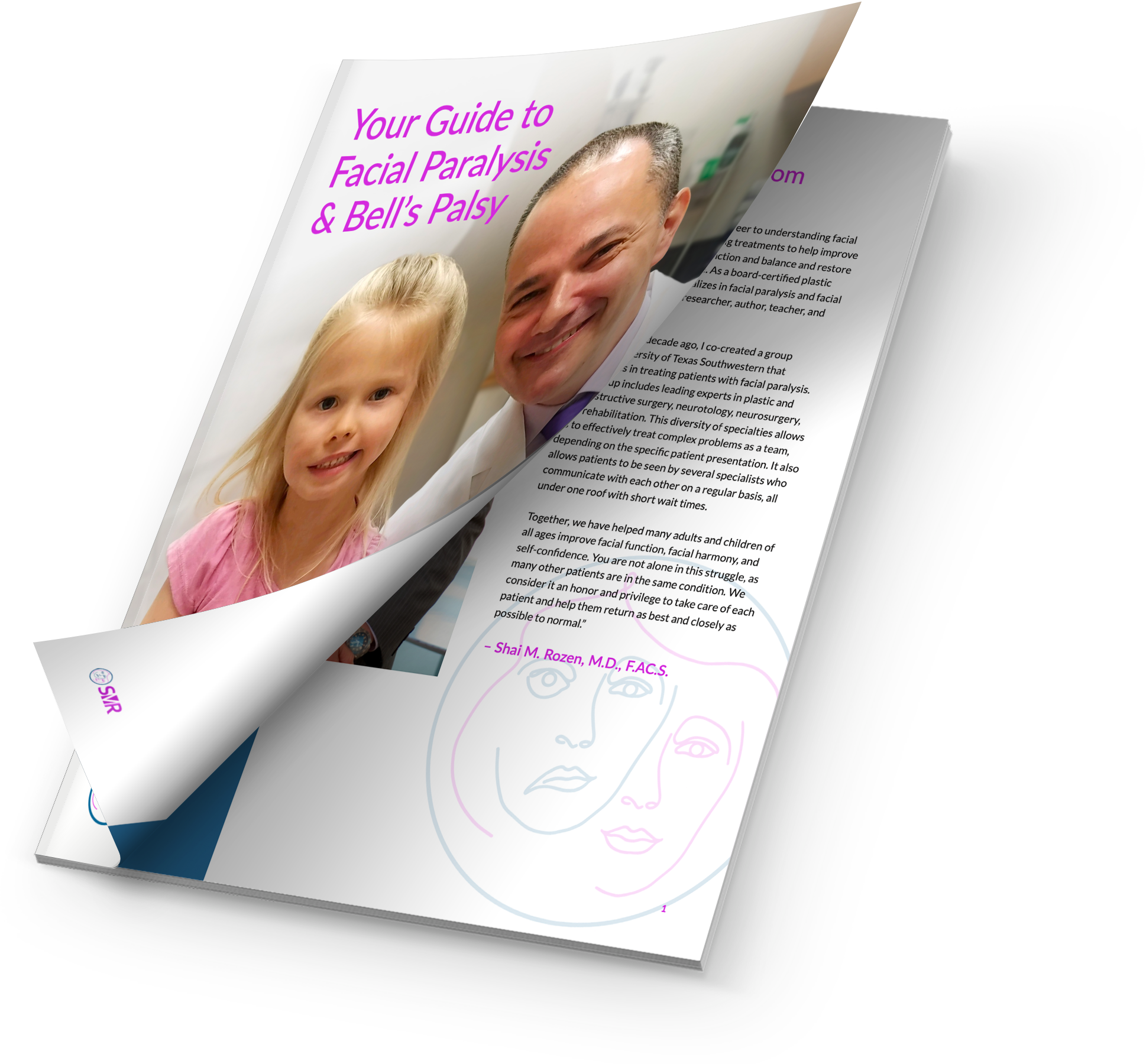 Is BOTOX covered by insurance?
Most of the time, BOTOX injections for the treatment of facial paralysis, synkinesis, blepharospasm, and spasticity are covered by insurance.
Is BOTOX injection painful?
This truly differs among patients, but in general, icing the area prior to injection helps decrease the pain and often the bruising.
Is it contraindicated to inject BOTOX if facial nerve physical therapy is performed?
No. In fact, well-placed BOTOX will often help with facial nerve physical therapy by weakening some excessively strong muscles and allowing weaker or uncoordinated muscles to be trained or retrained.
Are there any side effects to BOTOX?
The most common side effect is unintended weakening of adjacent muscles, which occurs because the BOTOX spreads beyond the intended muscle. The intended muscle can also weaken too much. Both effects can last around 3 to 4 months but primarily start decreasing 3 to 4 weeks after the injection. Other side effects may include irritation, allergic reactions, or flu-like symptoms. Severe side effects are rare.
What should I do if I have unintended weakening after a BOTOX injection?
Though injection of BOTOX in experienced hands is very accurate, inadvertent weakness can occur. If this happens, the only thing a patient can do is wait. Though the effect of BOTOX lasts for 3 to 4 months, inadvertent weakness usually begins to subside in around 4 to 6 weeks. Patients return to their baseline levels in 3 to 4 months.
Is it worth it to inject BOTOX?
That's a very individual decision. Patients may hesitate before the first injection; but, once they experience how positively BOTOX affects them, nearly all return for repeated injections. It is important to understand that BOTOX is an adjunct tool in the treatment of facial paralysis and synkinesis, and Dr. Rozen's group often combines it with surgical interventions where BOTOX is less effective.
Next Steps
For more information about BOTOX injections for facial paralysis and synkinesis, request a consultation to meet with Dr. Rozen at UT Southwestern Medical Center.