Shai M. Rozen, M.D., F.A.C.S.
1801 Inwood Road
Dallas, TX 75390
Phone: (214) 645-2353
Monday–Friday: 8 a.m.–5 p.m.

Static Support Surgery
While procedures that restore facial animation, such as nerve transfers or muscle transplants, are a significant part of correcting the effects of facial paralysis, it's also important for the face to look balanced and natural while at rest. Static support surgeries can improve both the function and appearance of the eyelids, nasolabial fold (smile line), upper lip, corner of the mouth, and base of the nose.
Leading facial paralysis surgeon Dr. Shai Rozen and a team of top neurosurgeons and neurotologists at the University of Texas Southwestern Medical Center have refined expertise in the latest techniques for restoring facial symmetry. Learn more about why static support is important and how it's accomplished.
What is static support?
The term static support describes procedures that provide support to different parts of the face but do not provide motion. This differentiation is very important to understand since most static procedures help patients obtain symmetry when the face is at rest rather than when attempting to animate or move the face. Examples of static support procedures include brow lifts, facelifts, and eyelid surgery including lower eyelid suspension and upper eyelid weights (which passively help eye closure at night).
What is the role of static support in creating a smile?
Static support doesn't actually help recreate a smile, but it does help provide improved symmetry when the face is at rest, especially in older patients. This is important since most of the time, we humans aren't smiling but rather in a resting mode, such as when watching TV or listening to someone speak. When there is no symmetry at rest, and one side of the face seems droopier than the other, patients may sometimes have the appearance of someone who has had a stroke. This is why as much effort, if not more, is applied towards achieving support and symmetry at rest.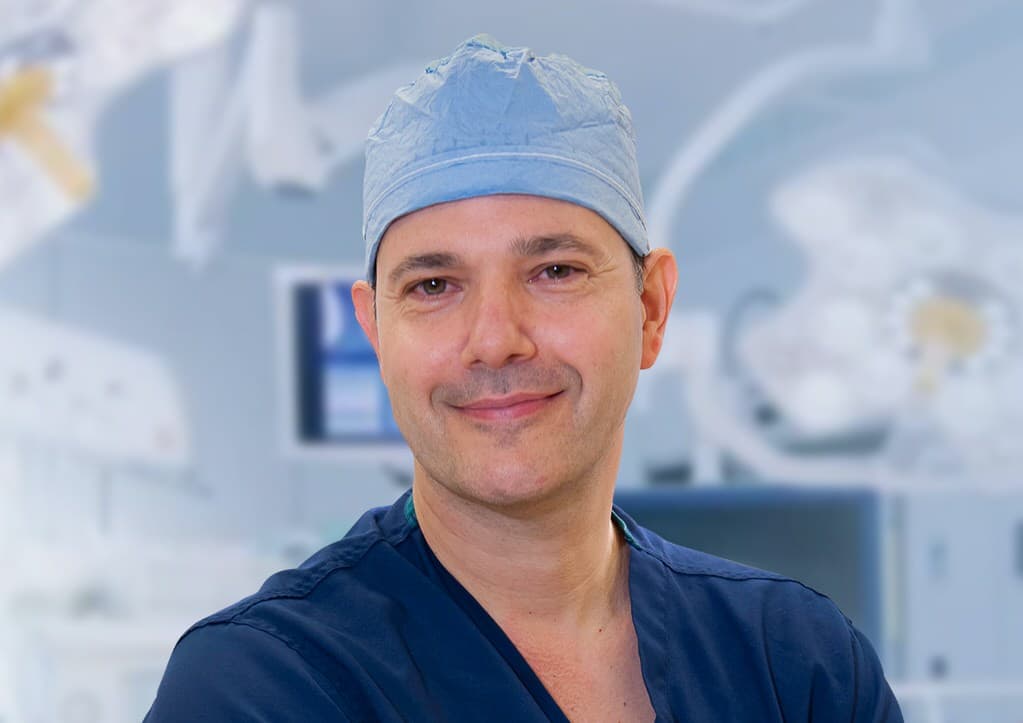 Facial Paralysis Surgeon
Dr. Shai Rozen
Dr. Rozen is a board-certified plastic surgeon who co-created a facial paralysis specialty group with colleagues from otolaryngology & neurosurgery at the University of Texas Southwestern Medical Center.
Meet Dr. Rozen
Credentials You Can Trust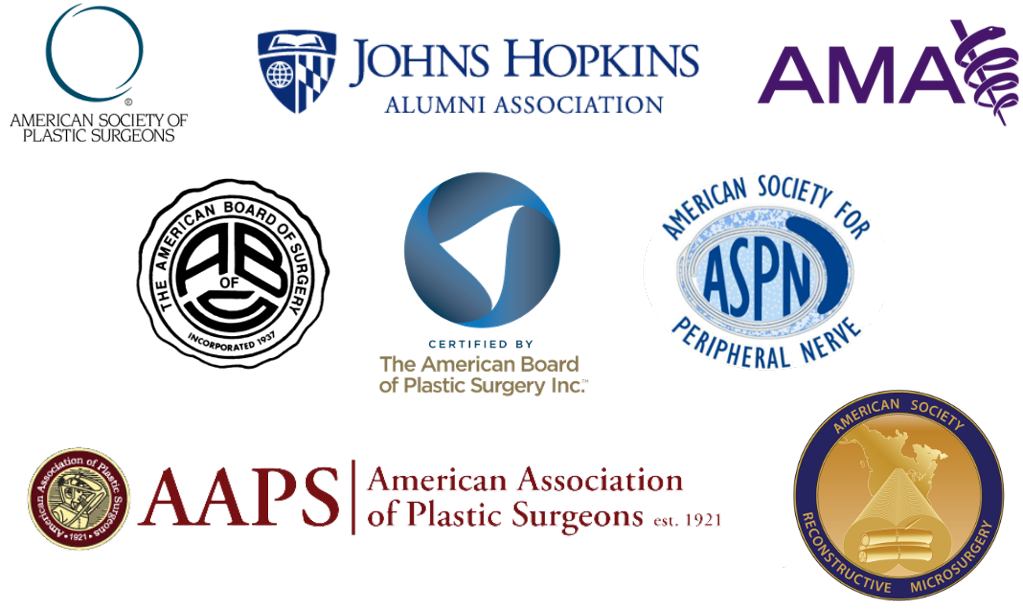 Will a facelift provide midfacial symmetry at rest?
Traditionally, surgeons used to perform procedures such as facelifts as the only treatment for facial palsy; today, many surgeons who are not versed in the treatment of facial paralysis continue to do so. A facelift is only an ancillary procedure that we often provide to our patients, but it is not the primary solution.
Simply said, a facelift performed well, should provide deep support to the face, with a fairly wide SMAS dissection and lift (also known as a high SMAS facelift) and offer an emphasis on reestablishing facial volume rather than stretching the tissue of the face. But on the palsied side, this is just part of the solution and, by itself, is not even a short-term solution, let alone a long-term one.
The reason for this is that in order for a face to achieve good symmetry at rest, it must have some degree of basic tone, or in other words, some degree of baseline innervation, which doesn't exist in patients with long-standing complete facial paralysis.
In patients with facial palsy for up to 18 months, we try to provide improved symmetry by reinnervating the face with a combination of nerve transfers and cross facial nerve grafts (CFNG). In patients beyond this timeframe, we usually need to add the functional muscle to obtain a smile, improve oral competence, and as some patients report, improve speech and eating. Although both nerve transfers and muscle transplants help improve symmetry at rest, patients still often benefit from static support in addition to dynamic support.
A Valuable Resource for Those Affected by Facial Paralysis
If you, a loved one, or a patient is affected by facial paralysis, it's crucial to have accurate, up-to-date information about symptoms and solutions. Board-certified plastic surgeon Dr. Shai Rozen, a specialist in facial paralysis and facial aesthetics, created Your Guide to Facial Paralysis & Bell's Palsy to be a readily accessible resource for all.
This downloadable, printable e-book makes it easy to understand:
How paralysis affects the face
When it's time to see a specialist
Common causes of facial paralysis
The difference between facial paralysis and Bell's palsy
Myths and facts
The latest treatment options
Answers to common questions
Get your free copy today—to download or view in your web browser—by completing the following fields: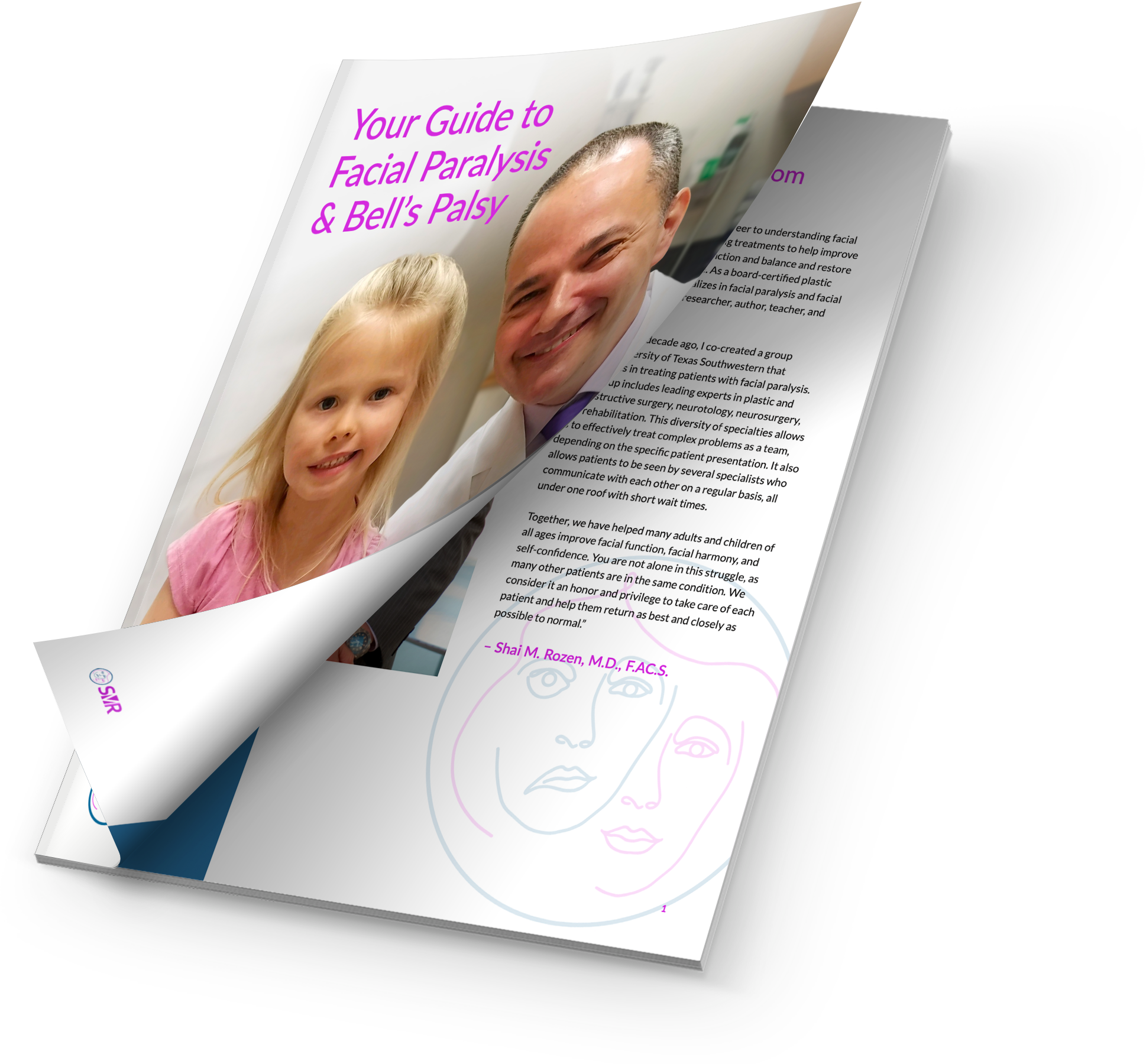 What improves midfacial symmetry at rest?
In addition to the dynamic procedures, including nerve transfers, cross facial nerve grafts, or muscle flaps, most patients need additional support for the face at rest. While there are several ways to achieve this, one of the most common approaches is to add fascial support grafts at the time of surgery.
Fascia is the cover or extension of a muscle and is a fairly strong natural tissue in the body. During surgery, we attach the fascia to certain areas of the face that provide support at rest. After insertion of the fascial support, we complete the remainder of the surgery with either nerve transfers and nerve grafts or, in other cases, with functional muscle transfers.
For information about how the fascia is used in additional areas in the face, refer to the Eyelid Surgery and Lower Lip Asymmetry pages.
Where is this fascia taken from?
The most common location from which fascia is harvested is the lateral thigh, from what is called the iliotibial band. This fascia is an extension of a muscle called the tensor fascial latae muscle located on the upper outer thigh. The fascia is harvested through a small incision made on the thigh. The amount of fascia harvested depends on the specific need of the patient. Fascia may also be harvested from the temporalis muscle.
What type of recovery should I expect?
Most of the time, we use static support for the midface (cheek and mouth) as part of a broader strategy of facial reanimation. Therefore, recovery is similar to nerve transfers, cross facial nerve grafts, and free functional muscle transfers when performed concomitantly. The additional incision in the thigh doesn't add much to the recovery period; a drain is placed if a larger quantity of fascia is harvested. Whether we use a drain or not, you will always have an ace wrap (a compression dressing) around the thigh and legs for 2 to 4 weeks after surgery.
Next Steps
For more information about static support for facial palsy, request a consultation to meet with Dr. Rozen at UT Southwestern.