Shai M. Rozen, M.D., F.A.C.S.
1801 Inwood Road
Dallas, TX 75390
Phone: (214) 645-2353
Monday–Friday: 8 a.m.–5 p.m.

Cross Facial Nerve Graft
A nerve graft is simply a nerve that is taken from one part of the body and used to restore either function or sensation in another part of the body. A cross facial nerve graft (CFNG) is a nerve that is attached to the healthy facial nerve and crossed over to the paralyzed side of the face to either restore facial muscle activity (if intervention is performed early enough before the facial muscle atrophies and becomes unusable) or to assist innervating a muscle transplant in cases of long-standing facial paralysis.
Dr. Shai Rozen, a thought leader in the area of facial paralysis, and a team of leading neurotologists and neurosurgeons at the University of Texas Southwestern Medical Center have helped many people in restoring smile and facial balance through facial reanimation surgery. Many of the effects of facial paralysis can be overcome with proper and timely evaluation followed by a thoughtful and detailed treatment strategy including advanced and highly technical procedures involved in smile restoration including CFNG.
What is cross facial nerve grafting?
Cross facial nerve grafting is a surgical technique in which a nerve is attached to a branch of the facial nerve on the healthy side of the face and is crossed under the skin to the paralyzed side. Over time, the nerve grows from the healthy side to the paralyzed side and may be used in several ways – innervating a transplanted muscle or assisting in innervating muscles that have been salvaged by nerve transfers.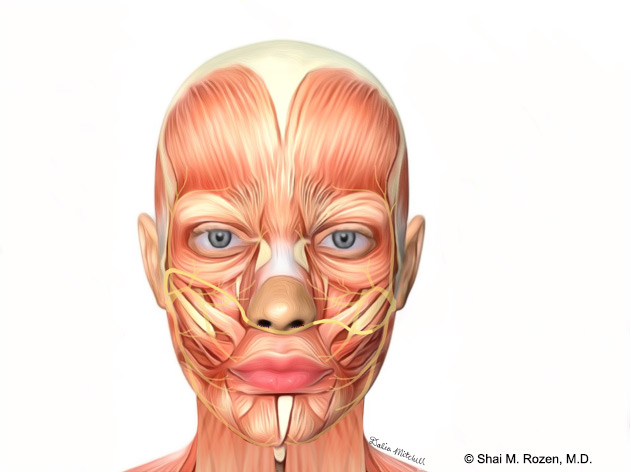 Cross facial nerve graft – front view: The nerve is crossed from the left healthy side into the right paralyzed side.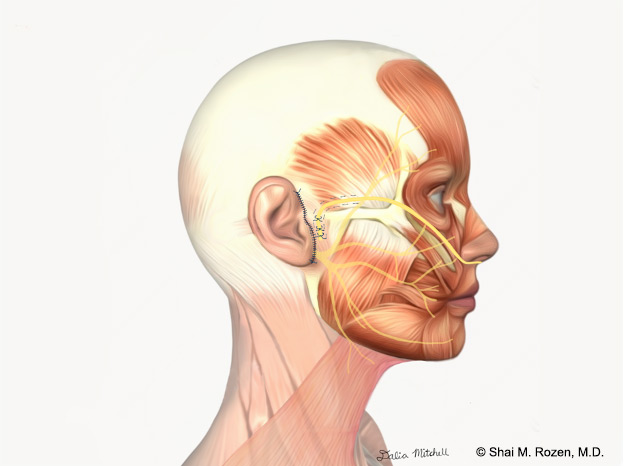 Cross facial nerve graft – side view: The nerve is placed in the right paralyzed side as preparation for a future muscle flap or sometimes as part of a nerve transfer strategy.
Which nerves are used for a cross facial nerve graft?
While any nerve can be used for a cross facial nerve graft, the most commonly used nerve is the sural nerve, which is harvested from the back of the leg. This nerve is a sensory nerve and its removal does not affect walking or any other motor activity. Patients may have a loss of sensation in a very small area in the side of the foot, but most patients never complain about this, and after a year, many patients state they cannot note a difference, possibly because of innervation by other nerves in the area.
How long does it take a cross facial nerve graft to grow?
A cross facial nerve graft takes between 6 to 12 months to grow from one side of the face to the other, depending on the length of the grafted nerve and its specific goal. The success of the nerve graft (the number of nerve fibers that grow through the grafted nerve) depends on multiple factors, including the patient's age, history of previous radiation, and several other factors. A cross facial nerve graft is more reliable in children and young adults; as we age, it becomes less reliable as the sole nerve to innervate either a facial muscle or a transplanted muscle. With this said, Dr. Rozen's group and other groups around the world have worked on increasing the reliability of these nerves with different strategies.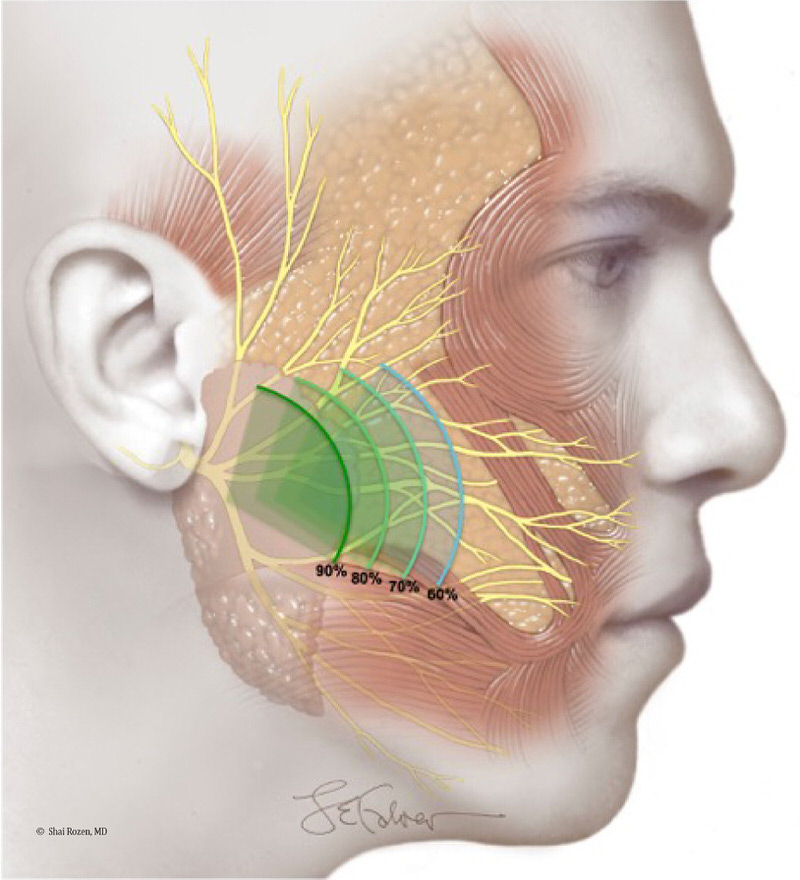 Dr. Rozen's group showed that a small dissection into the parotid gland significantly improves the chances to obtain more donor nerve fibers, likely improving outcomes of cross facial nerve grafts. (Facial Nerve Anatomic and Axonal Analysis: Optimizing Axonal Load for Cross Facial Nerve Grafting in Facial Reanimation. Plast Reconstr Surg. 2017 Jan;139(1):177-183. DOI: 10.1097/PRS.0000000000002897. PMID: 27632395. Cover Article.)
How is the cross facial nerve graft subsequently used?
Innervating a Transplanted Muscle
As noted above, the CFNG can be used for several purposes. It can be used to innervate a transplanted muscle (i.e., Gracilis muscle) in patients with long-standing facial paralysis. The nerve can be used alone or in conjunction with other nerves to activate the muscle.
Innervating the Patient's Own Facial Muscles in Combination With Nerve Transfers
Additionally, the CFNG can be used as part of the treatment strategy when treating patients with subacute facial paralysis who have been paralyzed no longer than 18 months. Exceptions are made if there is electrophysiologic evidence of viable muscle after 18 months. In this strategy, the patient's own facial muscles are salvaged via nerve transfers while simultaneously one to three CFNGs are inserted, each directed towards different parts of the face, including the midface for the smile, the eyes to improve eye closure and blinking, and sometimes to help with the lower lip.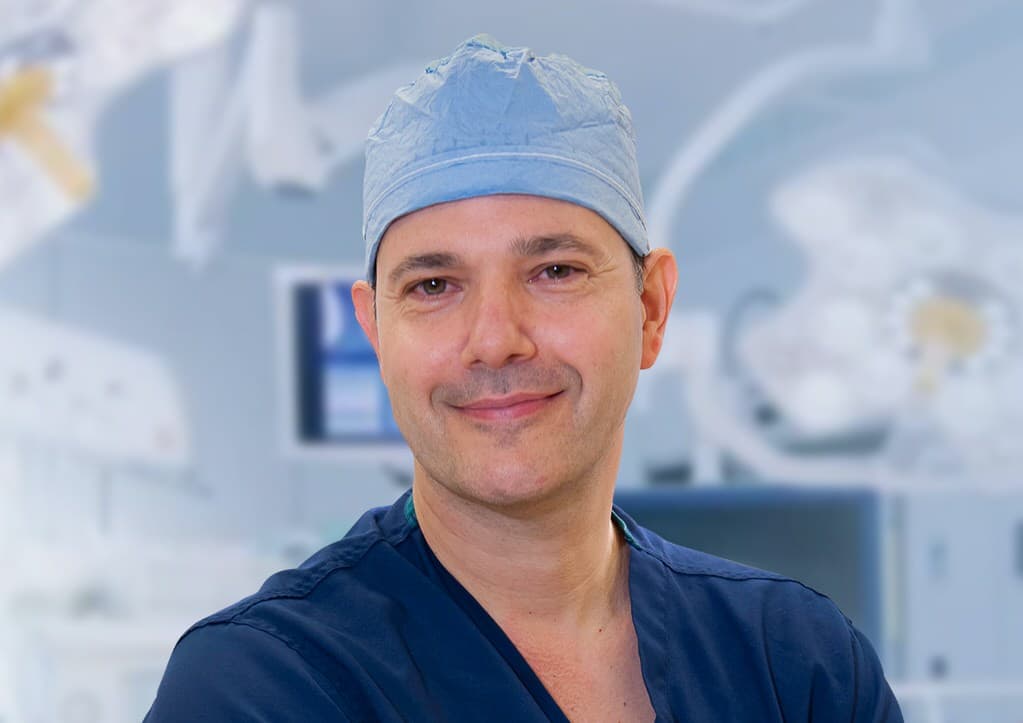 Facial Paralysis Surgeon
Dr. Shai Rozen
Dr. Rozen is a board-certified plastic surgeon who co-created a facial paralysis specialty group with colleagues from otolaryngology & neurosurgery at the University of Texas Southwestern Medical Center.
Meet Dr. Rozen
Credentials You Can Trust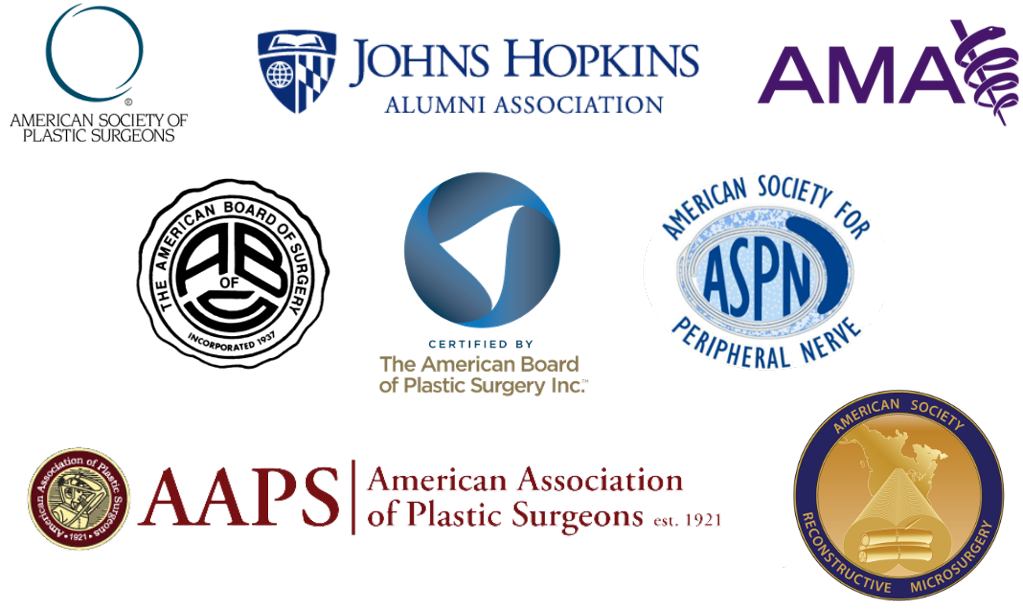 Can a cross facial nerve graft be performed in a patient of any age?
In general, most facial reanimation techniques should not be limited by age, but age is a consideration in the treatment strategy. In children, the use of cross facial nerve grafts is very common, but as we age, cross facial nerve grafts as single innervators of a muscle transfer are less reliable and are often used in conjunction with other innervation sources. Dr. Rozen and his group demonstrated that axon numbers decrease with age, providing perhaps a partial explanation of why cross facial nerve grafts in older patients should be augmented with additional treatments.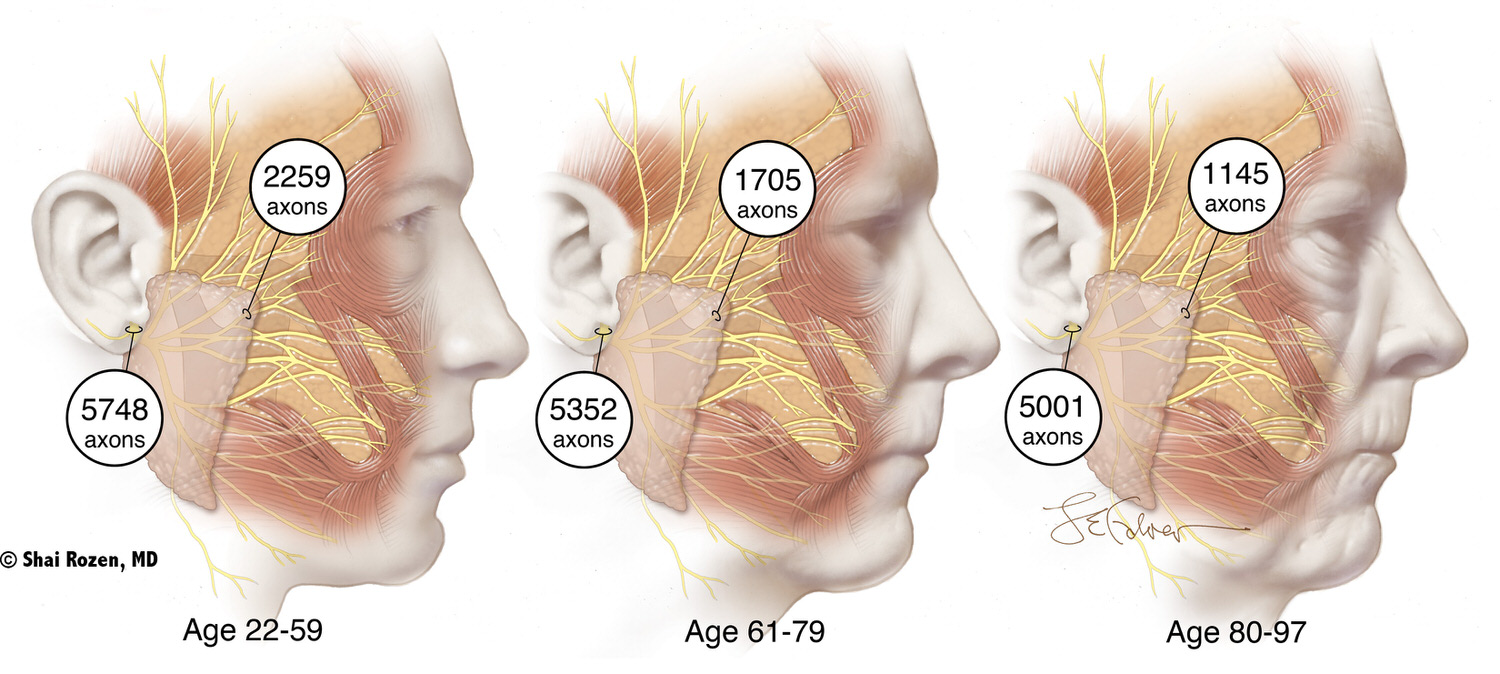 Dr. Rozen's group demonstrated that axonal counts (number of nerve fibers) change with age and should be taken into consideration when deciding on a treatment strategy. (Correlation Between Facial Nerve Axonal Load and Age and Its Relevance to Facial Reanimation. Plast Reconstr Surg. 2017 Jun;139(6):1459-1464. DOI: 10.1097/PRS.0000000000003376. PMID: 28198771.)
What does cross facial nerve graft surgery involve?
Whether a CFNG is used as the sole procedure in preparation for a second stage or in combination with other procedures as with simultaneous nerve transfers, patients should expect several things in surgery.
Step 1: Harvesting the Nerve from the Leg
In order to harvest the nerve, several small incisions are made on the back of the lower leg. While there are single-incision techniques, these are limited to harvesting grafts that include only one contribution of the CFNG.
Human anatomy shows significant anatomical variability of the nerve. In most cases, the main contribution comes from the medial branch of the sural nerve, which originates from the tibial nerve. In addition, a lesser contribution arises from the lateral branch, which originates from the peroneal nerve. In some cases, the lateral branches are the main branches, while the medial branches are smaller.
One skin incision in the leg will work most of the time if one section of the nerve is needed. However, in most cases described above, we use the entire nerve that often provides us enough nerve material for 2 and sometimes 3 CFNG, depending on the case. This also permits leaving the other leg untouched in case more nerve is needed later on.
Step 2: Transplanting the Nerve to the Face
On the face, we use incisions on both sides of the face in front of the ears, very similar to incisions we use when performing a facelift. They are nearly unnoticeable when healed. Additionally, a small incision is made on the inner lip or well-hidden in the nostrils to assist with the safe transition of the CFNG in the face. Sometimes we use very small drains depending on the degree of dissection (how much tissue is lifted). The incisions are then closed, and small tapes with "No Pressure" written on them are applied to both sides of the face.
What should I expect after a CFNG surgery?
In most cases, patients undergoing a CFNG are discharged the same day. The leg from which the nerve was harvested will have a light compressive dressing or stocking. Patients may walk after surgery but are encouraged to elevate the leg on a few pillows when sitting or lying down. The first clinic visit takes place 1 to 2 weeks after surgery, during which the "No Pressure" tapes are removed. After 2 to 3 weeks, the compressive dressing or stocking may be removed from the leg.
A Valuable Resource for Those Affected by Facial Paralysis
If you, a loved one, or a patient is affected by facial paralysis, it's crucial to have accurate, up-to-date information about symptoms and solutions. Board-certified plastic surgeon Dr. Shai Rozen, a specialist in facial paralysis and facial aesthetics, created Your Guide to Facial Paralysis & Bell's Palsy to be a readily accessible resource for all.
This downloadable, printable e-book makes it easy to understand:
How paralysis affects the face
When it's time to see a specialist
Common causes of facial paralysis
The difference between facial paralysis and Bell's palsy
Myths and facts
The latest treatment options
Answers to common questions
Get your free copy today—to download or view in your web browser—by completing the following fields: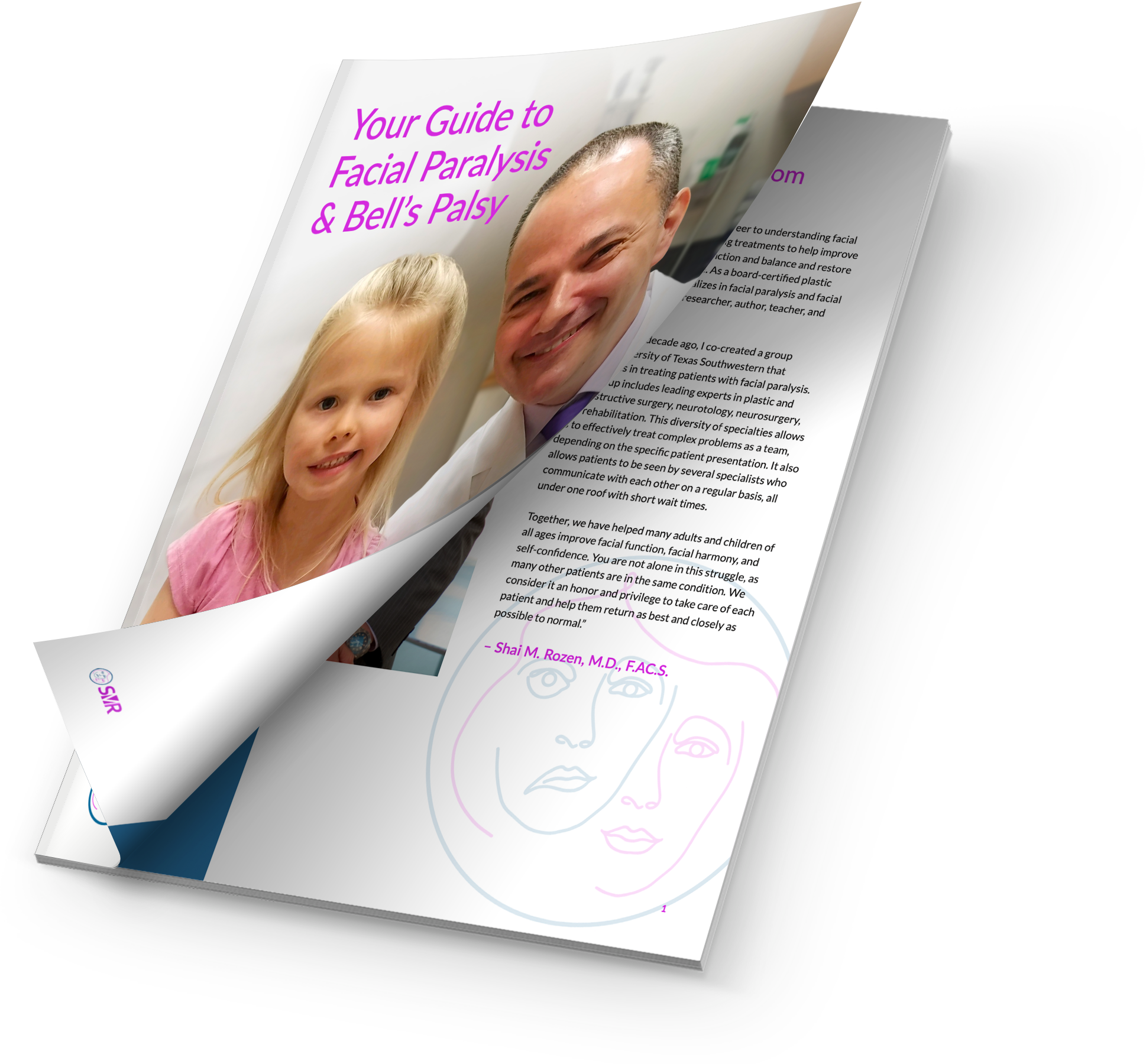 Next Steps
Dr. Rozen and his team have very broad experience in the latest surgical techniques for smile restoration and continuously seek to innovate the field of facial paralysis. Seeking early treatment optimizes the results of surgery. To get started, request a consultation online to meet with Dr. Rozen at UT Southwestern.