Shai M. Rozen, M.D., F.A.C.S.
1801 Inwood Road
Dallas, TX 75390
Phone: (214) 645-2353
Monday–Friday: 8 a.m.–5 p.m.

Acoustic Neuroma & Other Tumors
Acoustic Neuroma & Other Tumors
Several types of benign tumors can cause facial paralysis. Acoustic neuroma, schwannoma, and hemangioma are some of the most common. Facial paralysis from tumors usually progresses slowly with gradual facial weakness, although sometimes it may present with bouts of facial spasm followed by periods of relief, followed again by worsening. While tumors can cause symptoms themselves, removing them can cause problems as well.
For optimal outcomes, it is important to obtain an early and accurate diagnosis and be seen by a multispecialty group with extensive experience and expertise. At the University of Texas Southwestern Medical Center, Dr. Shai Rozen, one of the leading surgeons in the field of facial paralysis, and a team of leading neurosurgeons and neurotologists have extensive experience diagnosing and treating tumors associated with facial paralysis. We hope that the information below will empower patients to learn about how tumors can affect the cranial nerves including the facial nerve, and more importantly, understand that there are options available to help them in their journey to recovery in restoring facial function, appearance, and harmony and renewing confidence.
Acoustic Neuroma
Acoustic neuroma, also known as vestibular schwannoma, is a benign tumor arising in the main nerve that connects the inner ear to the brain (cranial nerve 8). It is a slow-growing tumor that originates from the Schwann cells on the outside of the nerves and may be present for years before symptoms occur.
Though acoustic neuroma is not a primary tumor of the facial nerve, because of its anatomical proximity to the facial nerve and the tight space in which the nerve is confined, it can subsequently compress the facial nerve and cause different degrees of weakness, ranging from minimal weakness to complete paralysis in rare instances.
Symptoms
Facial weakness is not an initial symptom for most patients with acoustic neuroma. Typically, symptoms relate to diminished hearing and balance and sometimes ringing in the ears. In some patients, the tumor grows to the point that it compresses the facial nerve, causing progressive facial weakness and sometimes complete paralysis.
The facial nerve symptoms generally correlate to the degree of injury to the facial nerve. Gradual weakening of the face may indicate the tumor is compressing the facial nerve. Symptoms include:
Decreased ability to raise the brow
Weakening smile over time
Lag in eye closure
Drier eyes
Excess tearing
Partial loss of taste (not common)
If you experience any of the above symptoms, it's important to consult a neuro-otologist or neurosurgeon who has expertise with acoustic neuroma and a facial nerve specialist who has experience with facial nerve pathology and surgery.
The Importance of Early Intervention
Many patients are told by their physicians that they should wait 1 and even 2 years for recovery. This is highly discouraged. Waiting longer than 18 months will usually result in irreversible damage to the facial muscles with the need for other somewhat more complex solutions discussed in Facial Paralysis Treatments.
Very often, early interventions enable the salvage of some of the facial muscles and can provide better protection of the cornea of the eyes and improved results overall. Even if the facial nerve was resected and grafted in the skull (temporal bone), it is advantageous to consult with a facial nerve surgeon. Dr. Rozen's group has found and extensively published that additional early interventions typically improve patient outcomes.
When To See a Specialist
If no motion is observed within 3 months, the chances of recovery are diminished and consultation with a facial paralysis surgeon is advised. This does not mean that immediate intervention is needed, but getting familiarized on the subject of facial nerve paralysis with an expert and getting to know the surgeon early will create familiarity and lessen the stress of future surgeries if needed.
Treatment
Treatments for acoustic neuromas range from close follow-up on tumor progression to radiation to surgery. Visit our Facial Paralysis Treatments page to learn more. Most patients do very well with treatments; however, some patients, especially those with large or recurrent tumors, may develop some degree of facial paralysis. Occasionally weakness is temporary and can subside within a few weeks after surgery or even over a 6 to 8-month period.
If facial paralysis develops after treatment of the tumor, it is usually acute, which means it appears rapidly. This can occur either when the patient wakes up from surgery or a few days later or over the ensuing months if radiation therapy is chosen. As mentioned above, the decision on how quickly you should be treated for your facial paralysis involves multiple considerations, and therefore consulting a facial paralysis expert is important, even if you don't end up needing surgery.
Neurofibromatosis Type 2 (NF2)
A small and unique subgroup of patients with acoustic neuromas has neurofibromatosis type 2 (NF2). This hereditary condition is characterized by benign (non-cancerous) tumors of the nervous system, which are commonly acoustic neuromas that develop on both sides. In addition to involving the 8th cranial nerve (the vestibulocochlear nerve responsible for hearing and balance), these tumors can affect the:
Facial nerve (cranial nerve 7)
Other cranial nerves
Spinal cord
Almost all other nerves in the body
While the tumors can stay stable for many years, they can also grow rapidly at any point. It is important to monitor NF2 with repeated MRIs and be treated in a center such as the University of Texas Southwestern Medical Center with specialization in NF2.
Symptoms
Symptoms of NF2 usually appear before the age of 30 and, similar to acoustic neuromas, commonly include:
Loss of hearing
Ringing in the ears
Loss of balance
Other symptoms include loss of vision, weakness of the extremities, and even cataracts. When other nerves in the body are affected, a variety of additional symptoms can occur (see table).
Symptoms
Affected Nerves (Cranial Nerve)
Hoarseness due to vocal paralysis
Laryngeal branch of vagus nerve (10th)
Loss of facial sensation
Strength of mastication (chewing)
Trigeminal nerve (5th)
Difficulty swallowing
Glossopharyngeal nerve (9th)
Vagus nerve (10th)
Hypoglossal nerve (12th)
Symptoms
Hoarseness due to vocal paralysis
Affected Nerves (Cranial Nerve)
Laryngeal branch of vagus nerve (10th)
Symptoms
Loss of facial sensation
Strength of mastication (chewing)
Affected Nerves (Cranial Nerve)
Trigeminal nerve (5th)
Symptoms
Difficulty swallowing
Affected Nerves (Cranial Nerve)
Glossopharyngeal nerve (9th)
Vagus nerve (10th)
Hypoglossal nerve (12th)
Treatment
While there is currently no cure for NF2, treatments for its symptoms include:
Observation
Medications
Surgery
For specific treatment strategies and techniques, visit the Facial Paralysis Treatments page. Patients should seek consultation at "centers of excellence" that see many NF2 patients, such as the University of Texas Southwestern Medical Center in Dallas.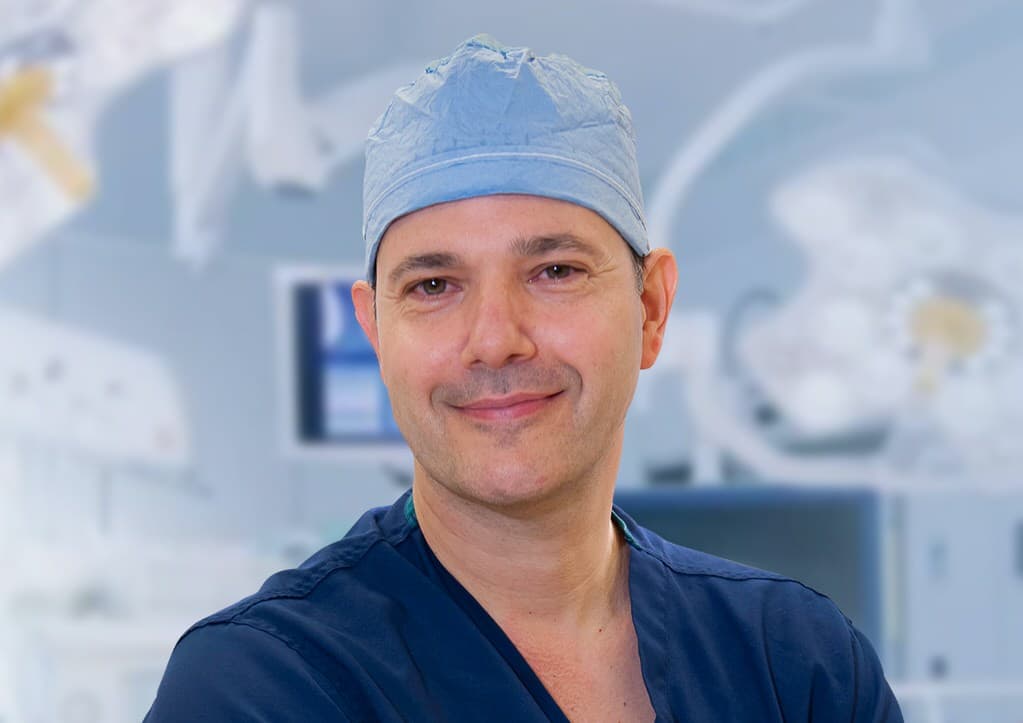 Facial Paralysis Surgeon
Dr. Shai Rozen
Dr. Rozen is a board-certified plastic surgeon who co-created a facial paralysis specialty group with colleagues from otolaryngology & neurosurgery at the University of Texas Southwestern Medical Center.
Meet Dr. Rozen
Credentials You Can Trust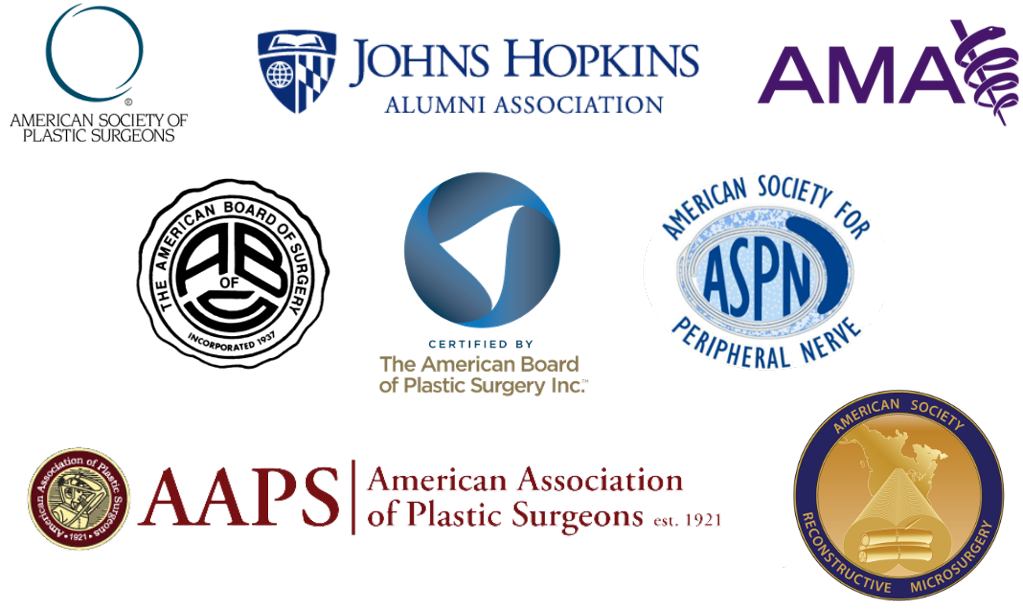 Facial Nerve Schwannoma
Facial nerve schwannoma, also called facial nerve neuroma/neurilemoma, are tumors that arise from the Schwann cells of the facial nerve. These cells reside on the outer aspects of the nerve and are critical for the proper functioning of the nerves.
Paralysis is mainly caused by compression of the nerve by the tumor, which most commonly grows where the facial nerve resides in the temporal bone of the skull. Since the tumor originates on the outside of the nerve, surgical resection is often possible without injuring the nerve, but an in-depth conversation is needed with a neuro-otologist or neurosurgeon who is an expert in removing tumors in this area.
Symptoms
Most commonly, patients present with gradual and incomplete facial paralysis, though some cases can present with a rapid onset of facial paralysis mimicking Bell's palsy. As with acoustic neuroma, if you have symptoms of facial nerve weakness or paralysis, it's important to have a consultation with a facial nerve surgeon.
Treatments
Common treatments for facial nerve schwannomas include:
Tumor resection
Tumor debulking (reducing the size of the tumor)
Tumor decompression
Radiation
Observation
To learn more, visit our Facial Paralysis Treatments page.
A Valuable Resource for Those Affected by Facial Paralysis
If you, a loved one, or a patient is affected by facial paralysis, it's crucial to have accurate, up-to-date information about symptoms and solutions. Board-certified plastic surgeon Dr. Shai Rozen, a specialist in facial paralysis and facial aesthetics, created Your Guide to Facial Paralysis & Bell's Palsy to be a readily accessible resource for all.
This downloadable, printable e-book makes it easy to understand:
How paralysis affects the face
When it's time to see a specialist
Common causes of facial paralysis
The difference between facial paralysis and Bell's palsy
Myths and facts
The latest treatment options
Answers to common questions
Get your free copy today—to download or view in your web browser—by completing the following fields: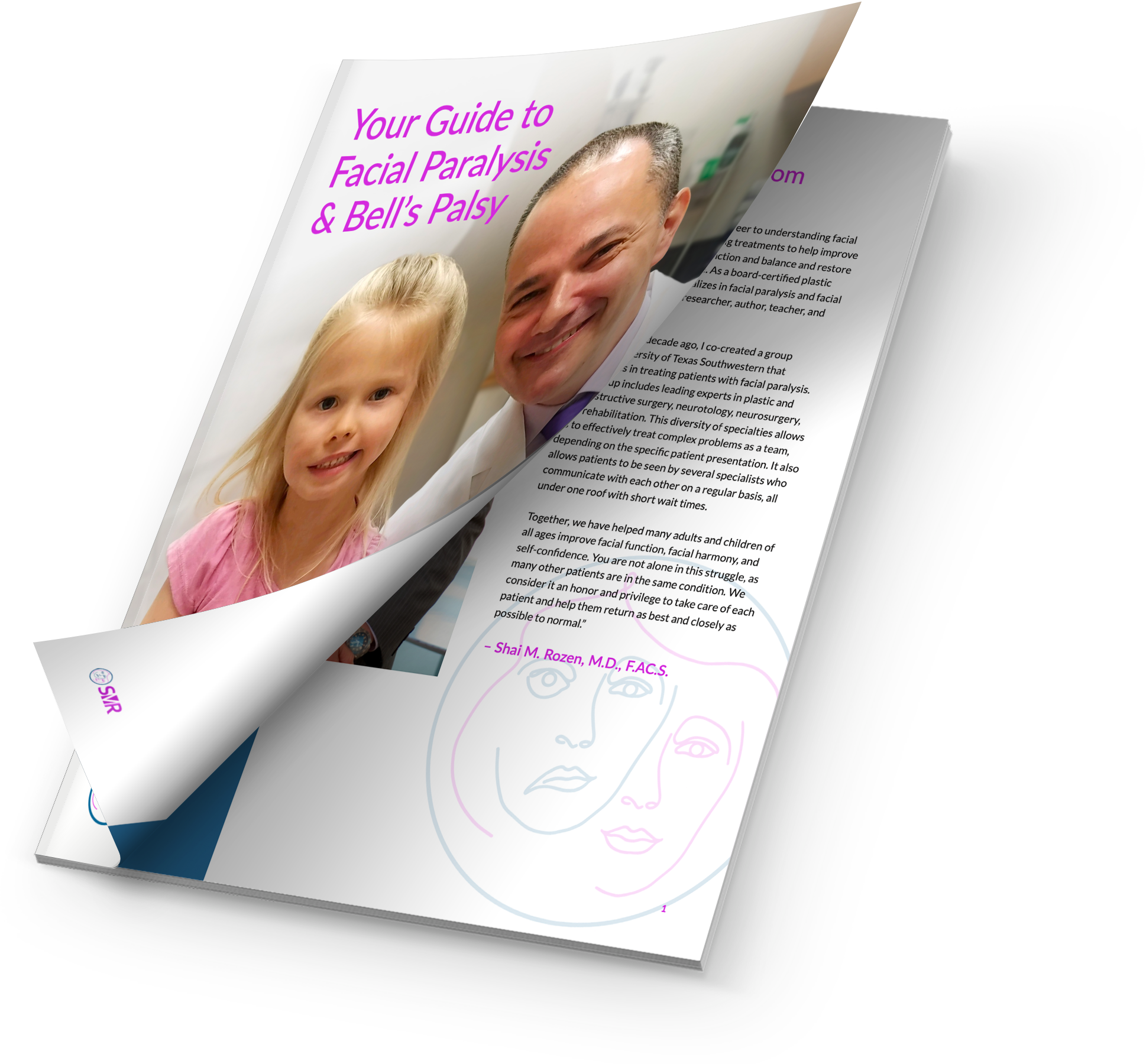 Facial Nerve Hemangioma
Facial nerve hemangiomas are rare benign vascular tumors that account for 18% of facial nerve tumors. They may also be called "venous vascular malformation" based on recent classification systems.
These tumors arise from the venous plexus surrounding the facial nerve. While they can involve any portion of the facial nerve, these tumors most commonly affect the facial nerve as it travels in the temporal bone within the skull.
Symptoms
The most common presenting symptom is facial nerve weakness with or without hearing dysfunction. Even when these tumors are very small, they can cause facial weakness as they invade the facial nerve fibers. Facial nerve paralysis can be:
Partial or complete
Gradual or sudden
Intermittent (recurrent events of paralysis)
Facial nerve hemangioma can also be associated with hemifacial spasms, in which the face has recurrent events of uncontrollable twitching.
Additional symptoms of facial nerve hemangioma include progressive hearing loss, ear pain, tinnitus (hearing sounds when there are no external sounds), and vertigo (a hallucination of motion).
For many patients, symptoms progress for years before a diagnosis is made.
Next Steps
Dr. Shai Rozen and his team have helped many patients with facial paralysis and synkinesis due to acoustic neuroma and other tumors restore their facial balance and quality of life. They look forward to helping you or your loved one. Request a consultation using our online form to meet with Dr. Rozen at UT Southwestern.