Shai M. Rozen, M.D., F.A.C.S.
1801 Inwood Road
Dallas, TX 75390
Phone: (214) 645-2353
Monday–Friday: 8 a.m.–5 p.m.

Temporalis Muscle Flap
To restore function in patients with long-standing facial paralysis in whom the facial muscles have atrophied, it is necessary to bring in a new muscle unit. One option is the use of local muscle flaps, the most common of which is the temporalis muscle flap, which is one of the muscles of mastication used for biting and chewing. Lengthening and repositioning the temporalis muscle may help restore patients' smiles.
Dr. Shai Rozen, a leading expert in the area of facial paralysis surgery, and his team at the University of Texas Southwestern Medical Center have helped many people smile again through facial reanimation surgery. Temporalis muscle flap is one of the surgical techniques used to restore facial function, appearance, and balance in patients with facial palsy.
View Before & After Photos
What is a temporalis muscle?
The temporalis muscle is one of the muscles of mastication (chewing). You can feel it with your fingers if you put your hand on the temple and bite down. The muscle originates in the skull's immobile parietal and temporal bones and inserts into the mobile coronoid process of the mandible (lower jaw). With this anatomical configuration, when the temporalis muscle contracts, it lifts the lower jaw.
What is a temporalis muscle flap?
While several temporalis muscle flap techniques exist for smile restoration, the technique most commonly used is the lengthening temporalis myoplasty, which has been popularized by the French surgeon Daniel Labbé. In this technique, the muscle is disconnected from its origin in the skull and insertion in the mandible, and then advanced toward the mouth. When the advancement is properly placed, the muscle is secured in its new position in a way that helps recreate a smile.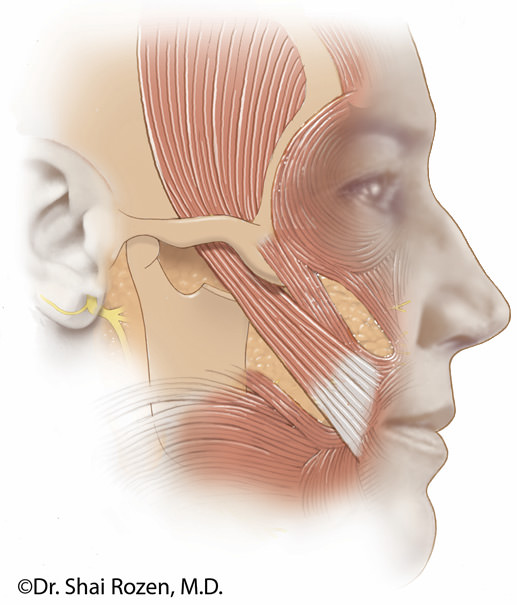 This figure depicts a temporalis lengthening myoplasty as developed by Dr. Danielle Labbé, a French colleague of Dr. Rozen. (Facial Reanimation in The Seventh and Eighth Decade of Life. Plast Reconstr Surg. 2018 May; 141(5): 1239-1251. DOI: 10.1097/PRS.0000000000004329. PMID: 29697623)
What are the similarities and differences between a functional free muscle flap and a local muscle flap?
While both types of flaps are meant to restore function, a free muscle flap, such as a gracilis muscle flap , is a muscle that is disconnected completely from its anatomic attachments, including its blood and nerve supply, and reconnected in its new position including its vessels and nerves. A local muscle flap, such as a temporalis muscle flap, is a muscle that is disconnected from its attachments but not from its blood and nerve supply and reattached in its new position without needing reattachment of its vessels and nerves.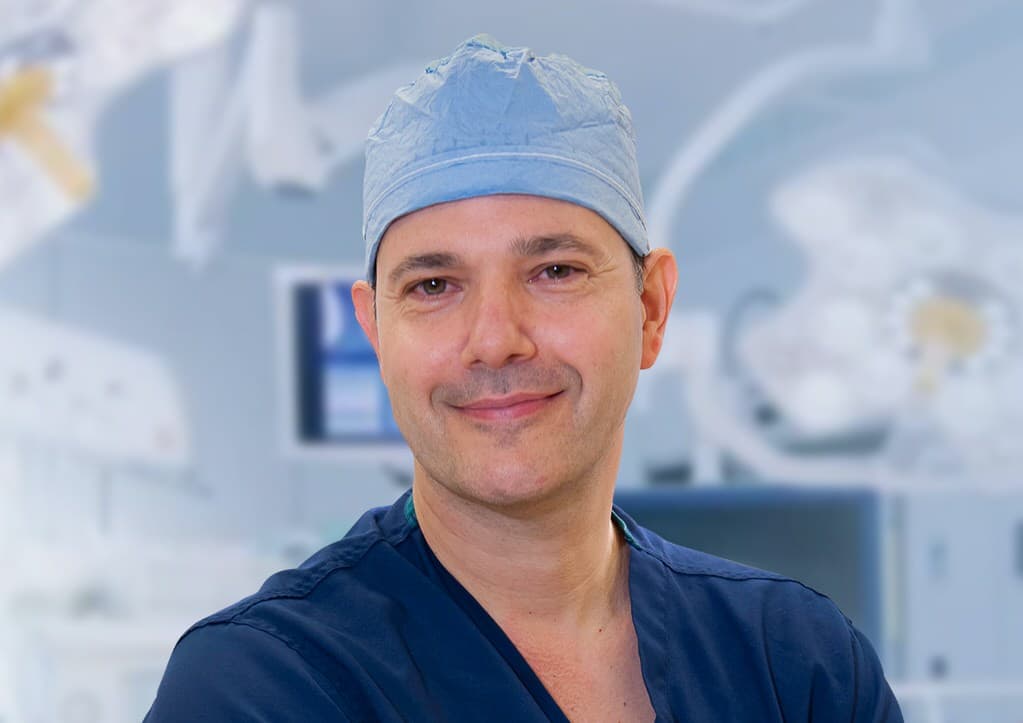 Facial Paralysis Surgeon
Dr. Shai Rozen
Dr. Rozen is a board-certified plastic surgeon who co-created a facial paralysis specialty group with colleagues from otolaryngology & neurosurgery at the University of Texas Southwestern Medical Center.
Meet Dr. Rozen
Credentials You Can Trust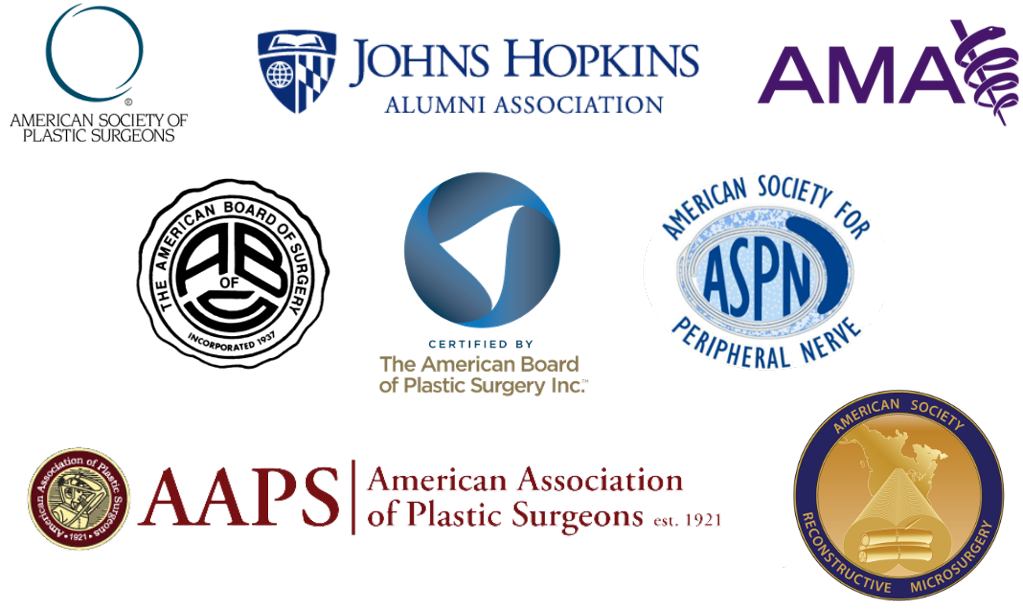 When is a free functional muscle transplant used versus a temporalis muscle flap?
Several factors come into play when deciding between a free functional muscle flap and a temporalis muscle flap, including:
Surgeon preference
Patient preference
Health of the patient
Previous history of radiation
Defined goals and expectations from the surgery
Advantages of Free Muscle Flaps Include:
Greater degree of motion to accommodate patients with larger smiles
May be placed in different vectors for better symmetry between sides
Previously radiated patients have less issues with motion
Advantages of Temporalis Muscle Flaps Include:
Performed without microsurgical techniques
Slightly shorter surgery
Patients see motion earlier (about 3 weeks instead of 3 to 6 months)
For a full comparison of different techniques and an opinion on which might fit you, request a consultation with Dr. Rozen.
A Valuable Resource for Those Affected by Facial Paralysis
If you, a loved one, or a patient is affected by facial paralysis, it's crucial to have accurate, up-to-date information about symptoms and solutions. Board-certified plastic surgeon Dr. Shai Rozen, a specialist in facial paralysis and facial aesthetics, created Your Guide to Facial Paralysis & Bell's Palsy to be a readily accessible resource for all.
This downloadable, printable e-book makes it easy to understand:
How paralysis affects the face
When it's time to see a specialist
Common causes of facial paralysis
The difference between facial paralysis and Bell's palsy
Myths and facts
The latest treatment options
Answers to common questions
Get your free copy today—to download or view in your web browser—by completing the following fields: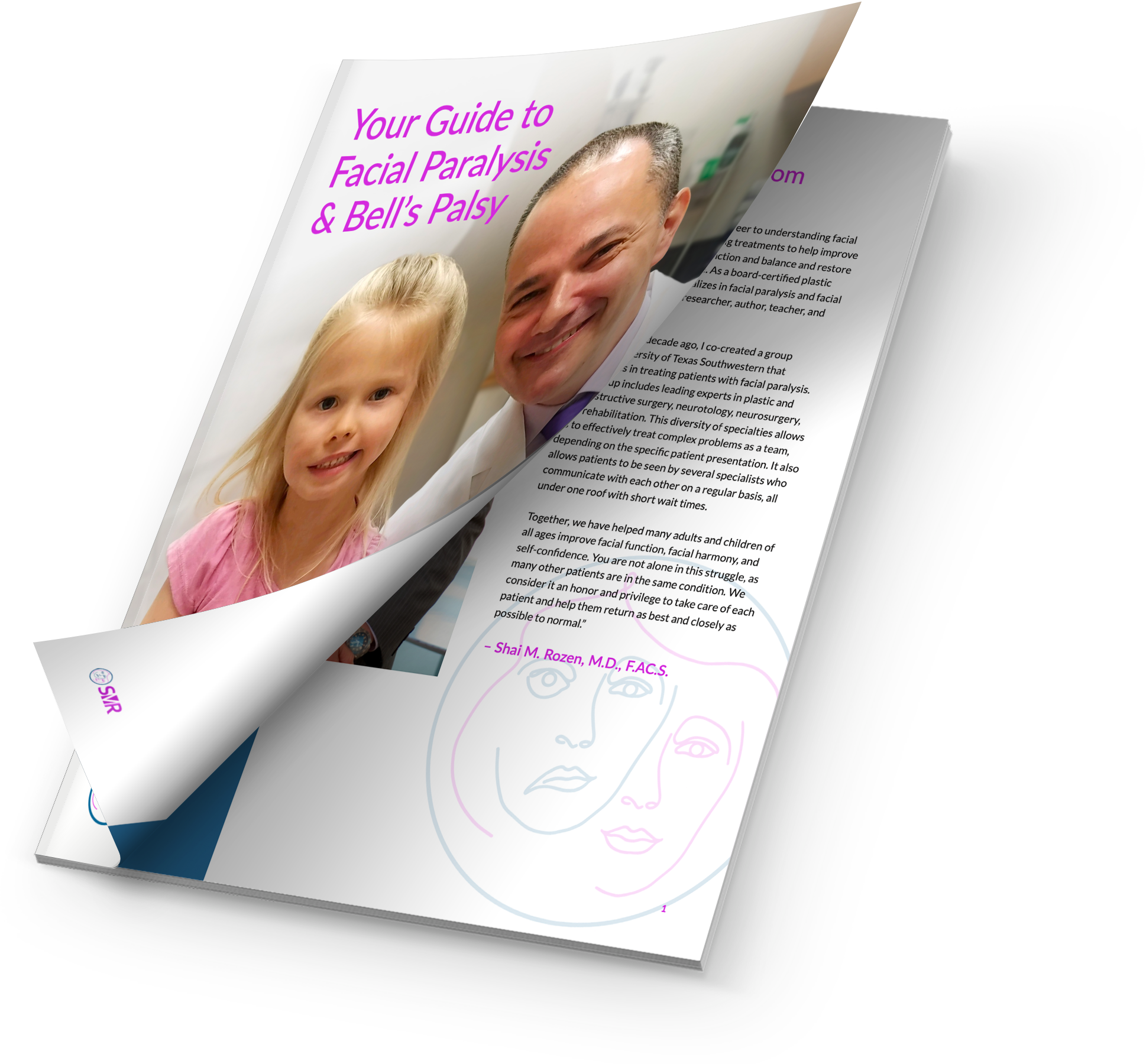 Where will the scars be after a temporalis muscle transfer?
Typically the main incision begins in front of the ear (well hidden in natural folds), extends upwards behind the hairline, and crosses to the other side of the ear. This provides the exposure needed to see the muscle in its entirety, to free and mobilize it adequately, and then advance it towards the corner of the mouth and upper lip. In adults, most of the time, an additional incision is made in the nasolabial fold, which runs between the lips and the cheek, and leaves a well-hidden scar. In children, we prefer free functional muscle flaps without the additional scar.
How long is recovery and what should I expect after temporalis muscle transfer surgery?
Patients typically stay overnight after the surgery; however, some patients return home a few hours after surgery if they are up to it. We ask patients to eat a slightly softer diet with smaller bites for the first 2 weeks, gradually returning to their regular diet. Patients may shower and gently shampoo their scalp in a couple of days.
Over the next 3 to 4 weeks, patients are encouraged to try to smile when clenching their teeth. After 5 to 6 weeks, we encourage patients to start practicing their smiles without clenching down.
Post-surgical swelling is expected and will resolve over several weeks and months following surgery. Sutures in the skin are removed after a week, and surgical staples in the hair are usually removed after 2 weeks. We will typically use a small drain in the scalp area that is removed after the first week in the clinic.
Next Steps
Dr. Rozen and his team have helped many people with facial paralysis smile again, restoring both function and appearance. They offer a complete array of surgical techniques for facial reanimation and individualized treatment based on each patient's specific condition and needs. Dr. Rozen encourages you to request a consultation online to meet with him at UT Southwestern Medical Center. The sooner you seek treatment, the more options you have available.